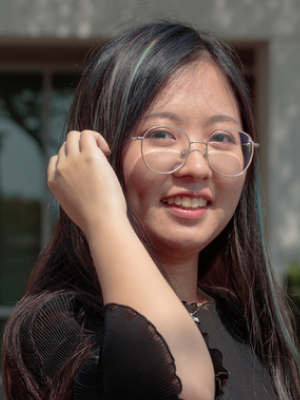 Ceciley (She/her/hers) primarily conducts research in the area of Communication and Technology (CAT) and Human-Machine Communication (HMC), with a particular focus on people's negative experience of media, such as digital stress, frustration, and distrust.
Bio
Ceciley (Xinyi) Zhang (B.A., Beijing Normal University; M.A., University of Oklahoma) is a doctoral student in the Department of Communication at UCSB.
Driven by her passion for understanding and improving human experiences in the digital age, Ceciley examines digital media both as communication channels and as interactive partners. For her first strand of research interest, she primarily focuses on the complexities of the multimedia environment and tensions inherent in contemporary digital life. For the second strand, she extensively explores human interactions with emergent technology, such as generative AI, personal digital assistant, and robotics. 
Additionally, her background as an international scholar adds a unique dimension to her research. Concentrating on cultural norms of digital media use, her work also encompasses cross-cultural comparisons of people's media patterns. 
Specialization
Media Affordance, Human-Machine Communication
Education
B.A. (2015-2019), Beijing Normal University, Chinese Language and Literature
M.A. (2019-2021), University of Oklahoma, Communication